Repost: Ebay Bootleg Game Market Alive and Well
The origin of this repost is a strange one. Its a story that I first ran on 5/2/2010. Its about a bootleg copy of DK: Jungle Climber I got off ebay. It in itself is not that interesting, and in the big Techpedition crash of 2010 (at least I think it was 2010), this was one of the only posts that was officially lost. With the resent passing of Giant Bomb's Ryan Davis, this article came to mind, as it is the one and only time he actually acknowledged my work. Thanks to the WayBackMachine, I was able to get the original text from the article. Here's a full repost of the article and I've included a screen grab of Ryan Davis' tweet pointing at the article's original link at the bottom. After reading the article it will make sense.
RIP Ryan, you were taken from us way too soon. You will be greatly missed.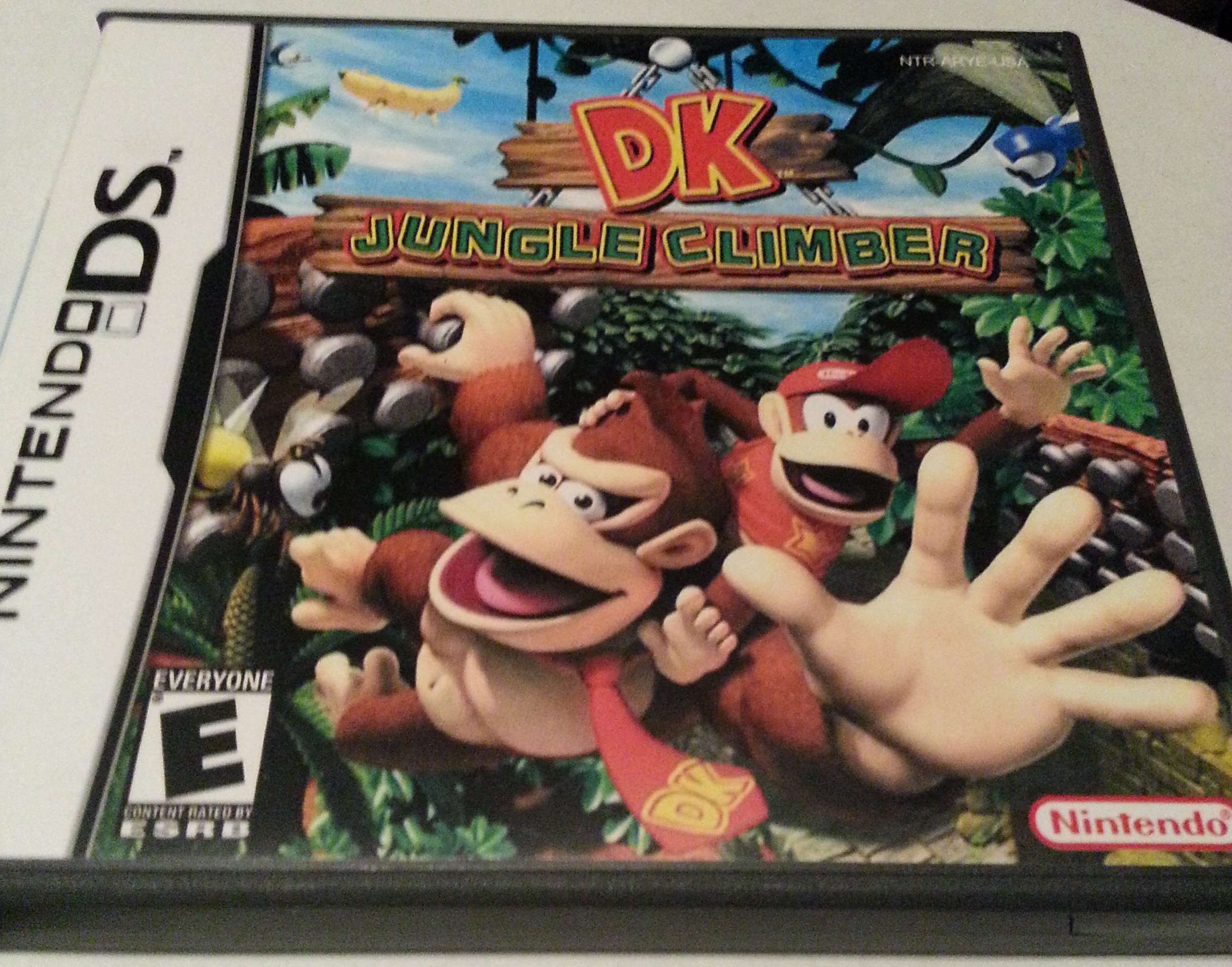 Let me spin you tail of one man's boy's attempt to find justice in the often brutal used online video game market. As a recent purchaser of a DSi XL, I'm in the market for new DS games to rock in my new toy. After being stunned by the prices of old DS games, I took it upon myself to choose one and try to find the best best possible price on it. Having owned most of the 1st party DS titles I chose DK Jungle Climber as my coveted prize at the end of my journey.
Searching the usual game sites Gamestop, Amazon, Walmart, Half.com etc. I found that if I wanted a full copy (game case and manual) I would need to spend at least $27 plus shipping. Not being content with that price, I chose to dive into ebay and see what the sellers there have.
I was alarmed by the price differences I found. The ebay sellers were offering Buy it Now for $13-$15 shipped. Needless to say, I was pretty excited. As a responsible consumer I immediately go into skepticism mode. Many of the sellers were from China, so I assume they are bootleg. I then checked the feedback on one particular seller chinese_liuxiang. They listed the game for $13.99 and had fantastic feedback. I thought to myself, there is no way this many people are being fooled by a bootleg product, maybe its legit.
Another stand out in the listing was the following sentence. "Compatible for all Nintendo DS or DS Lite(not compatible for dsi)." This again, suggested that the game was bootleg. All DS games outside of weird titles like Guitar Hero On Tour, are compatible with the DSi. At best, this could be blamed on seller ignorance. I've worked with plenty of people that had customer facing jobs yet didn't know crap about the products they were pushing.
So again, I'm super skeptical about the purchase, but am just curious enough to spend the $14 to find out. Sure, I would have a game that wasn't compatible with my new piece of hardware, but the story I would tell about the purchase was worth the hassle. I buy the game and patiently wait for it to arrive. 3.5 weeks later the game arrives. At this point, I am more excited to find out how bootleg it is, than I am to actually play it.
I was dead on, this game was super bootleg. It looks great, and to the untrained eye, could be passed off as a retail copy, but bootleg none the less. The case is a bit flimsier than it should be, the cover and rear image have not so obviously been the victim of slight compression/pixelation, and the rear description of the game is obviously lifted directly out of a game site's review of the game.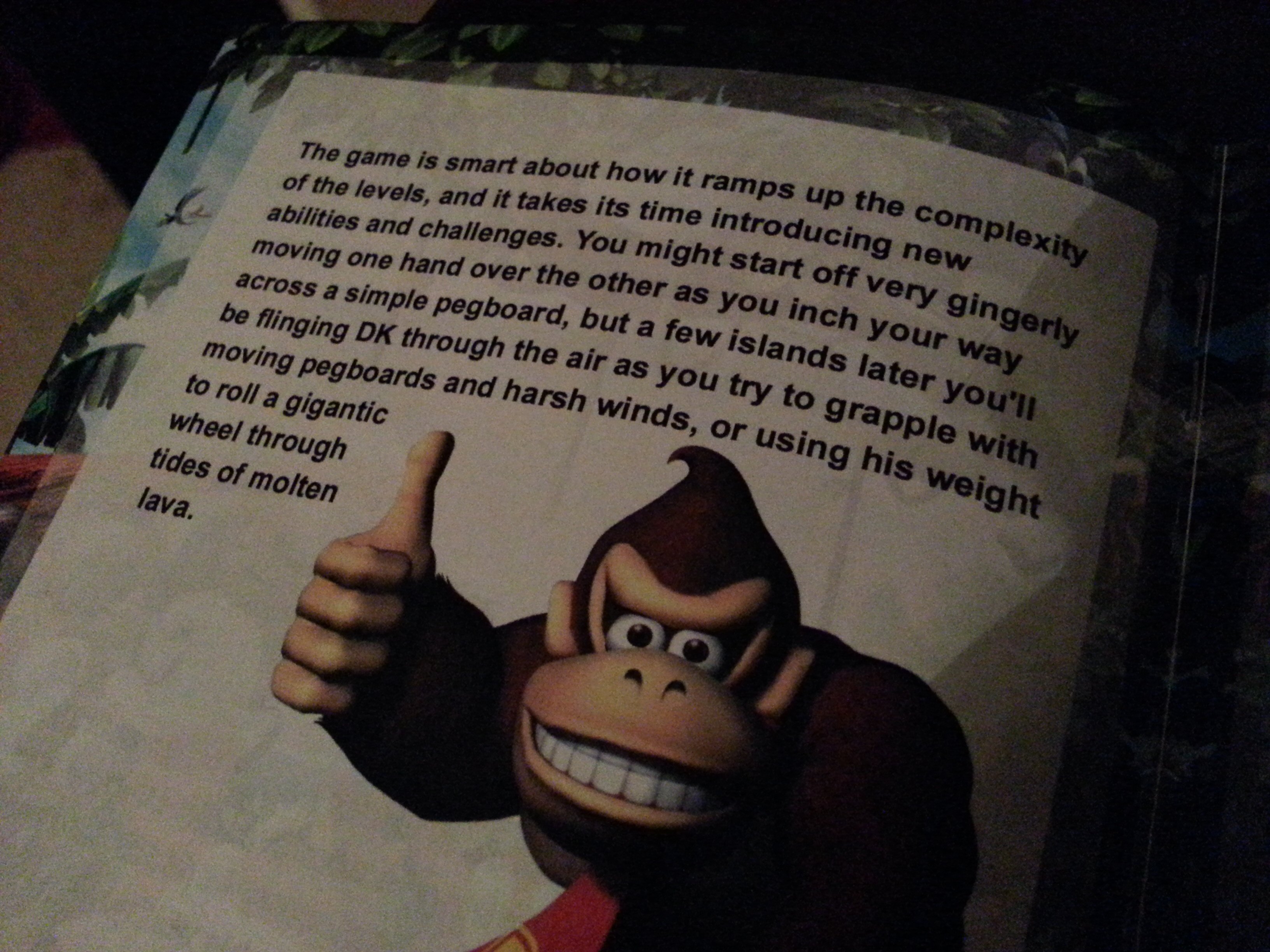 As I give the game an even closer look, I realize that, outside of a few tiny screen shots on the back, all of the images are recycled versions of the same image. The front, back, spine, game card, and background images in the game book let are all the cover picture re-cropped and re-purposed. I think the most astonishing thing of all is the instruction booklet.
The instruction book is a 30 page color screenshot laden deluxe game review. The last sentences in the booklet are: "DK Jungle Climber still feels surprisingly fresh. While it could've relied on the sheer novelty of its control scheme, it does a smart job of fleshing out the gameplay and offering a well balanced challenge once the novelty has worn off." Who ever wrote that is not working for Nintendo, I assure you.
In fact, a quick Google search for a sentence from the booklet uncovers the source material. Nearly the entire game description in the instruction booklet (which spans cover to cover) is pulled verbatim from Ryan Davis' (of Giantbomb.com fame) review of the game written while he was still an editor at Gamespot.
At what point does the production value of a bootleg product cause the bootleg to become a product of its own. Literally hundreds of people have bought products from this seller, with a majority of them being straight up fakes. This is just proof that if you doll up your stolen wares enough, the general public will never know and actually praise you for how awesome you are. After looking through the 200 most recent pieces of feedback (most of which were for DS games) only one person mentioned the pirated nature of the product. That means there's less than a .5% chance that the buyer will figure it out. That is freaking scary!
I don't know if I'm actually going to play his copy on my old DS Lite (tested game in DSi XL and it gave me an error screen), but I am definitely going to hold on to this copy. Its really a mind blowing piece of media that deserves attention for being such an amazingly crafted chunk of felony. Ignorance is bliss, and you can't beat a great deal, just don't look too deep into it.