Local Spotlight: Southern Geekfest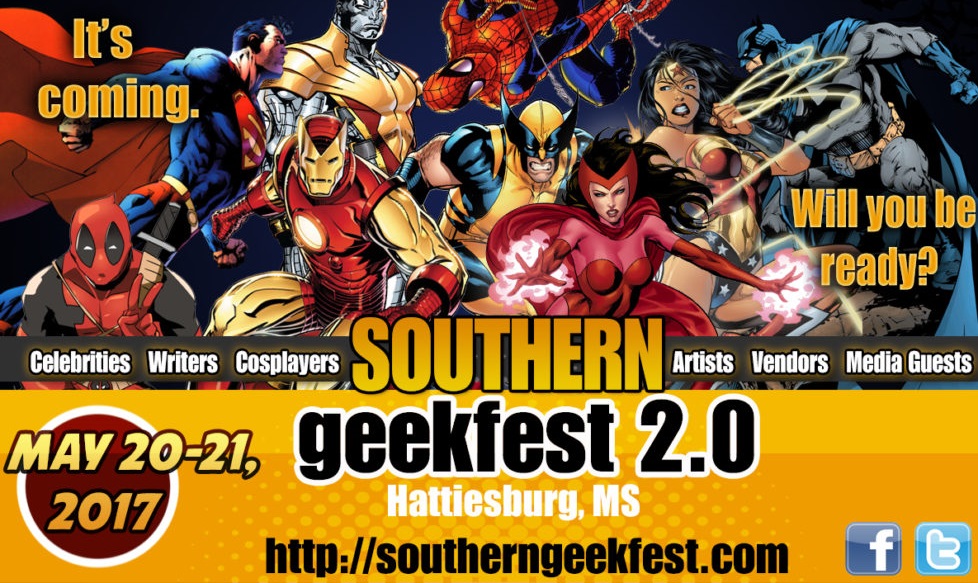 This time around we turn our attention to the Southern Geekfest. A Comic/Pop Culture-con in the Hub-City (Hattiesburg, MS). One of the organizers, Rafe, took a few minutes to talk about what to expect from the highly anticipated second Geekfest.
Excerpt taken from www.southerngeekfest.com:
The main goal of Southern Geekfest is to bring pop culture interest to Hattiesburg, MS and to provide a forum to attract an amazingly broad spectrum of exciting and talented individuals who cover the fields of television, movies, graphic art, and writing.
This event brings together actors, artists, writers, radio personalities, cosplayers and many others, to showcase their craft and to interact with fans and dedicated fan groups.
Southern Geekfest is the first of its kind in the Southern MS Pine Belt, and is dedicated to the dream of entertaining all those who come from not just Mississippi, but from all over the country. People from all walks of life are encouraged to come and have fun and be the hero (or heroine) you want to be!
You can check out all the details on the Southern Geekfest here!
Check out the interview in our podcast feed, or in the player above.  No, abridged version this time, so break out those Podcast players and let the Reality Breached Podcast invade your ears.
Follow Reality Breached on the internet machine here
Website – https://www.realitybreached.com
Facebook – https://www.facebook.com/realitybreached/
Twitter – @realitybreached
Reality Breached is proudly part of the G.R.I.T.S. Media Network
Website – http://www.gritsms.com/
Facebook – https://www.facebook.com/GRITSms/
Twitter – @GeekGRITSms
Podcast: Play in new window | Download
Subscribe: Apple Podcasts | Android | Google Play | RSS
Podcast (rebre-local-spotlight): Play in new window | Download