Local Spotlight: Comic Commander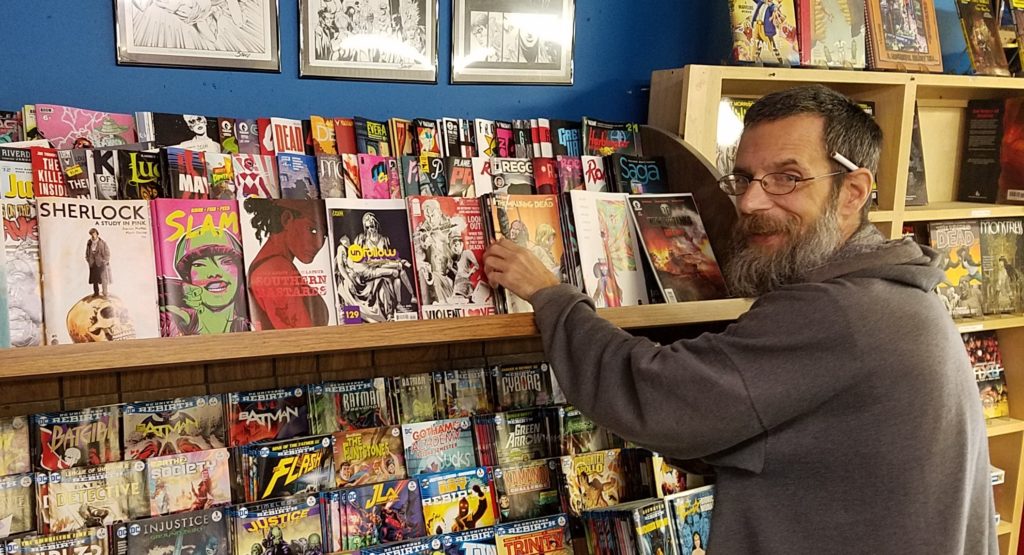 This is the second in Reality Breached's series of local spotlight interviews. In this feature we showcase local businesses, and people that make the Jackson area interesting. This time we set our mics on Ridgeland's Comic Commander. The full audio interview is above, with an abridged question-focused version below, enjoy.
Who are you and what is the Comic Commander?
My name is Chris, I'm the manager here, and Comic Commander is the only full-service comic shop in the area. Subscriptions, mail orders, special orders, comics, toys, gaming, anything else that is related. If we don't have it, we'll get it, and if we can't get it, we will craft something outta Popsicle sticks really fast. laughs We do this because we love it more than anything else. I've been reading comic books all my life and so has the boss and Sam, the other guy that works with me. If you added it all together it's a scary number like 150 years of reading comics. We just want to put good books in people's hands is our mission statement.
What service(s) do you offer?
Monthly subscriptions, we will hold your books, offer various game nights, and like I said earlier, we just want to put good books in people's hands. What's one of the rarest things someone has asked you to get? I get requests for old books all the time. It's sort of a happenstance thing, but somebody asked for a Hulk 181 and one finally came across the counter. So we sold that for good money. We're extremely fair in our grading and stuff like that. I don't ever want anyone walking out of here feeling like they paid too much. I don't them walking outta here laughing at me either. laughs I noticed this other room you have is set up for card games. We do gaming, we have Friday Night Magic at 7:30 if anybody ever wants to come. We alternate between standard and draft generally speaking. Also, We've got a couple guys that come by and play Star Wars X-Wing kinda casually.
What makes Comic Commander a unique experience?
The one thing I always loved about this store is that it feels like the classic idea of a comic shop. I have seen stores that have more modern fixtures and are cleaner and there is just something to me about (being at) a comic shop flipping through long boxes. People all the time will make comments about the creaky floor, as we're on the second floor. I love that about this place. We want to know what you're into and we try to make it as an enjoyable experience as we can. Plus we have the ULTRA cute dog so that is the icebreaker for most. I think it shows that we really do love this stuff. Its fun, and there's not enough fun in the world. I just want people to enjoy their comics.
What originally got you into Comic Books?
I can remember this like it happened yesterday. I have 5 brothers and sisters and every year my parents would throw us in a van and we would drive down to see my grandparents in Florida. Which is great, but if you put 6 kids in a van for 8 hours straight, that's not good. Somebody's breathing on me, somebody's touching, he got more than I did, etc. We pulled into get gas, I don't know where we were cause I was avoiding everybody. I had found a quiet spot in the back of a van to chill, and I'm 5. My mom goes to pay for the gas and comes back with a handful of comic books. My brothers and sisters didn't want them. It was stuff like the Justice League 100 page special, DC Tarzan, SGT. Rock, a couple Supermans maybe a Batman, and I was hooked. I figured out, nobody wanted to read them and those big bench seats in the van with space enough for a thin kid like me to lay down underneath. There were lights on the floor to read by, and if nobody saw me, nobody bothered me. So I spent the next part of the ride pouring over these books. That did it for me, I don't think my mom knew what she was doing.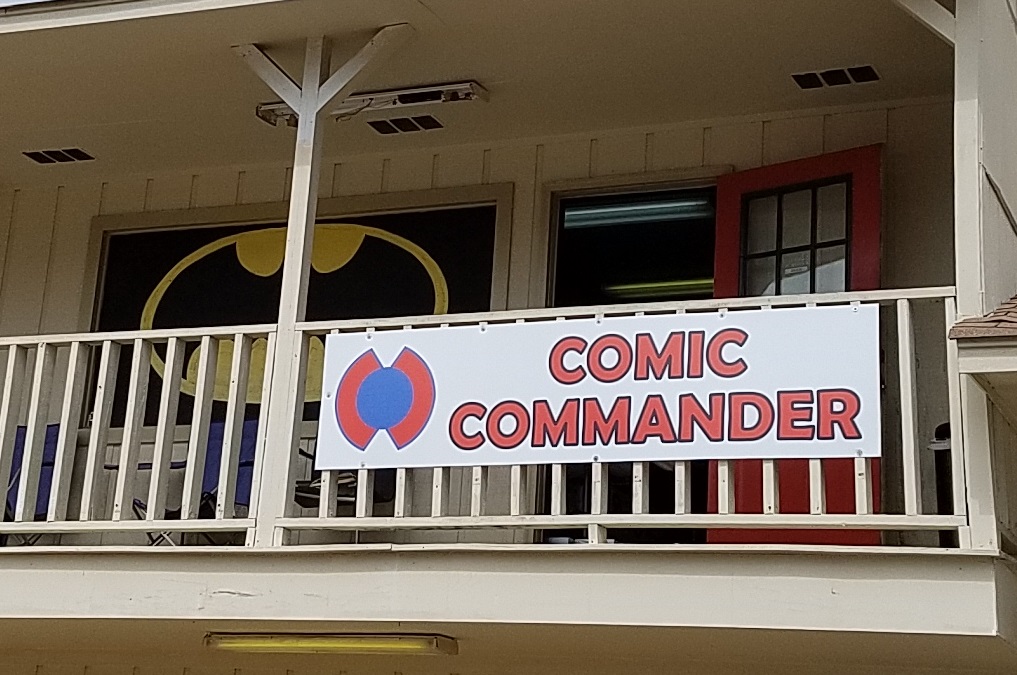 How did Comic Commander come about, and how did your passion for comics play a part?
The previous owner decided he wanted to get out of Comics retail, and one of our customer's lifelong dreams was to own a comic shop. So he stepped in. I had actually left because I was taking care of a family member. He called me and said he was buying the place and that he wanted me back behind the counter. I said I'd do it, because I did miss this place and I didn't have anything else lined up. I love the previous owner, if hear's this, don't take it wrong, but the last 6 years have been a little more relaxed. Both the previous owner and the current owner are life long comic guys, so it's nice to work for someone who believes in the product. There's been a store here for like 26 years now under various ownerships. Its nice to get up in the morning knowing you don't have to go to work and deliver babies or something that's, you know, very serious. I get to go to work and hang out with comics and toys and my dog, and talk to people about "Did you see Deadpool yet?", that kinda thing.
What are top comics you would recommend for new readers looking to get into comics?
If they are looking for something brand new. I would point them to DC rebirth, in particular, Superman, it's been really good. The Marvel stuff, right now Doctor Strange, Clone Conspiracy (Spider-man) and X-men vs. Inhumans and I like Amadeus Cho as the Hulk. There are certain things I always fall back on. Planetary is an about near the perfect comic book if you've never read it. Early Vertigo stuff, Hell-blazer, Doom Patrol, Animal Man all good reads, Sandman of course. When people come in and don't know what they want to read I'll say, Sandman. They'll ask, "What is it?" It's a little bit of everything. It started out a kind of a horror thing then became a fantasy thing, some romance here or there, some intrigue, you know, a little bit of everything. If you like Stranger Things I'd recommend Paper Girls. I was really happy to see The Badger come back this year. Nobody listening to this is gonna know what I'm talking about, but its real goofy and it doesn't take itself seriously. Awe man, I'm doing short shrift to every other book I'm reading right now. I will say this, for anybody that likes John Carpenter, the crossover they are doing right now with Big Trouble in Little China and Escape from New York is amazing.
Would you care to share the wackiest thing that's happened in Comic Commander?
I had a couple of guys that used to shop here and they were real cut-ups and they got Galacta daughter of Galactus. They kept sending me messages and calling saying "Man that comic you sold to us for a $1 is worth $3 that's a 200% profit!" It got to the point where we hung a copy of Galacta daughter of Galactus on the wall and customers would ask is that comic worth that much. Which I replied it's worth the laughs.
What's your opinion on the evolution of Comics and its various related media (movies, TV, etc)?
One thing, as a grown up, it's harder to sell to kids, but getting rid of the Comic's Code, comics have grown up as I've grown up. That's probably a very self-centered view of that. When its comes to the 30 to 50 age range, it feels like the writers have grown up along with the readers. You can say that it's a little darker or a little more realistic. Japan has had a big influence as well. I love seeing the movies get made now. I would love to see DC get back to making decent movies. I didn't hate Batman V Superman, I mean I've I spent more time watching worse movies. I love that what I loved so hard back in school, Star Wars, is now such a generally accepted part of culture, whereas when I was a kid it wasn't. There are so many fandoms out there no one feels like they don't get to play along.
What would you say to someone that does not know you exist yet?
That's a wide open question, lol. Come in and we will put something in your hands that you've never thought of before. If monthly comics freak you out, we can put a trade paperback in your hands. Give me a shot, if we don't hit it the first time, we will work with you to find something close, I promise. I want you to enjoy what you got. Stop thinking about your problems and wonder if they are going to save the day for a while.
Podcast: Play in new window | Download
Subscribe: iTunes | Android | Google Play | RSS